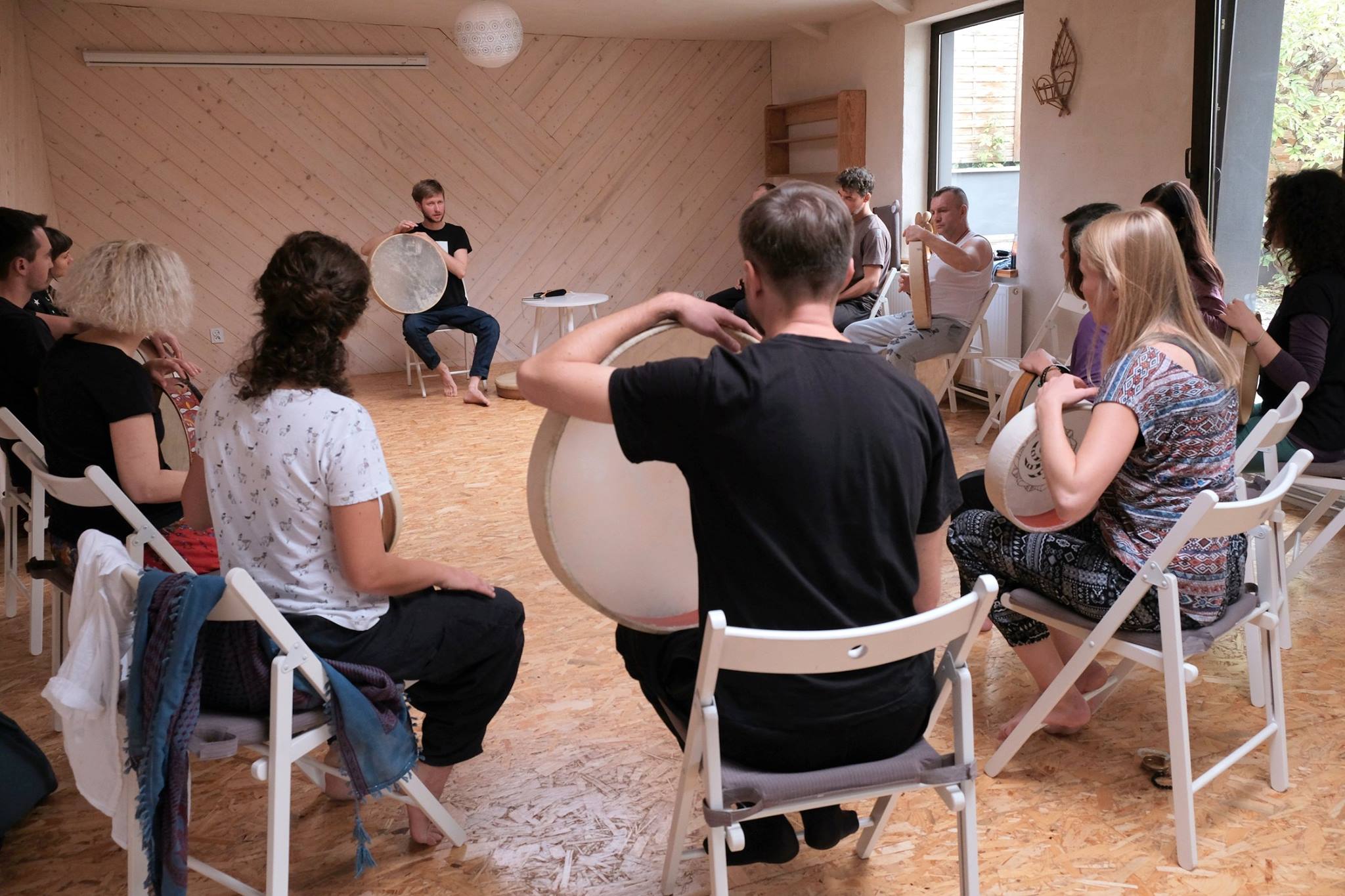 https://www.facebook.com/WillowsNestBerlin/videos/321801455178347/
Willows Nest and Frame drums – Borys Słowikowski invite you to:
INTRODUCTION TO FRAME DRUMS – INTENSIVE COURSE
11th of April – 6th of May
7 classes / 2 hours per class / 14 hours in total
Investment: €200 (early bird till 1.04) / €225 after 1.04
– The number of spots is limited to 6 participants – sign up at borys.drums@gmail.com or via pm
– The course is addressed to students of any level, also those that has never studied any instrument… The only question is: if you like drumming and feel like learning it?
– We offer good quality drums for rent and offer help in finding an instrument for purchase
((⬤))
This introductory course is an opportunity to learn the solid basics for playing a hand frame drum. It's open to participants of any level, starting from the complete beginners. Together we will explore the sounds of this ancient instrument, build up an ability to play, learn different traditional grooves and develop our rhythmic creativity. We are going to study the technique of frame-drumming according to the approach of the innovative percussionist and composer Zohar Fresco.
Special focus will be dedicated to our primary instrument: the body – it's posture, responsiveness, the role of breath in the musical creation and how it helps to increase one's sense of rhythm. To cultivate a more intuitive feel, we will make use of different body practices. All about letting it flow 🙂
((⬤))
THE COURSE COVERS:
– warm-up exercises to increase the sensitivity in hands and responsiveness in the body
– step-by-step learning of the 'lap style' technique according to the approach of Zohar Fresco
– basics of rhythmic vocalization system based on Konnakol and rhythmic compositions to stretch musical grammar 🙂
– Bodies in Pulse/Pulse in Bodies – a body-voice method to deepen the sense of rhythm and pulse, build up an ability to improvise and practice mindfulness in movement
– basics of group improvisation
– exploration of different rhythmic traditions on the frame drum
– learning how to create your own compositions
– history of frame drums; getting to know different kinds of traditional frame drums of Middle East, Southern Europe and North Africa
-> you don't have to know how to read notes 😉
-> every class is recorded and the recordings are available to students online
⬤ USEFUL INFO:
COURSE DATES: 11th of April – 6th of May
7 meetings
Mondays (8.04, 15.04, 22.04, 2.05) and Thursdays (11.04, 25.04, 6.05), 18:30-20:30
PLACE: Willows Nest (pm for location in F-hain)
NUMBER OF PARTICIPANTS: max. 6 people
INVESTMENT: €200 (early bird till 1.04) / €225 after 1.04
SIGN UP: borys.drums@gmail.com or pm to @Frame drums -.Borys Slowikowski
To book a spot transfer the full price to the account given in the response. The spot is non-refundable.
……………………………………………………………………………
* The workshop is led by Borys Slowikowski: musician, teacher, performer and psychologist. He has studied frame drums from Zohar Fresco since 2010. Studied also from i.a. Bijan Chemirani, Jacek Ostaszewski, Sabina Giannatou, Efren Lopez, Andrew Morrish, Iwona Olszowska. Plays music from Greece, Poland and Ubuland. Apart from music, he is involved in movement improvisation and performance field as well as in varied forms of somatic work like mindfulness, psychogenic training, BMC, martial arts. In his teaching he uses those methods and experiences to make learning easier and more intuitive.
https://soundcloud.com/boryskolego/chakavak-perski-skowronek-part
https://www.facebook.com/borys.kolego/videos/10218039667489209/
………………………………………………………………………………
-> For more info about enrolment & workshops and concerts send a message or follow https://www.facebook.com/framedrumsborys/