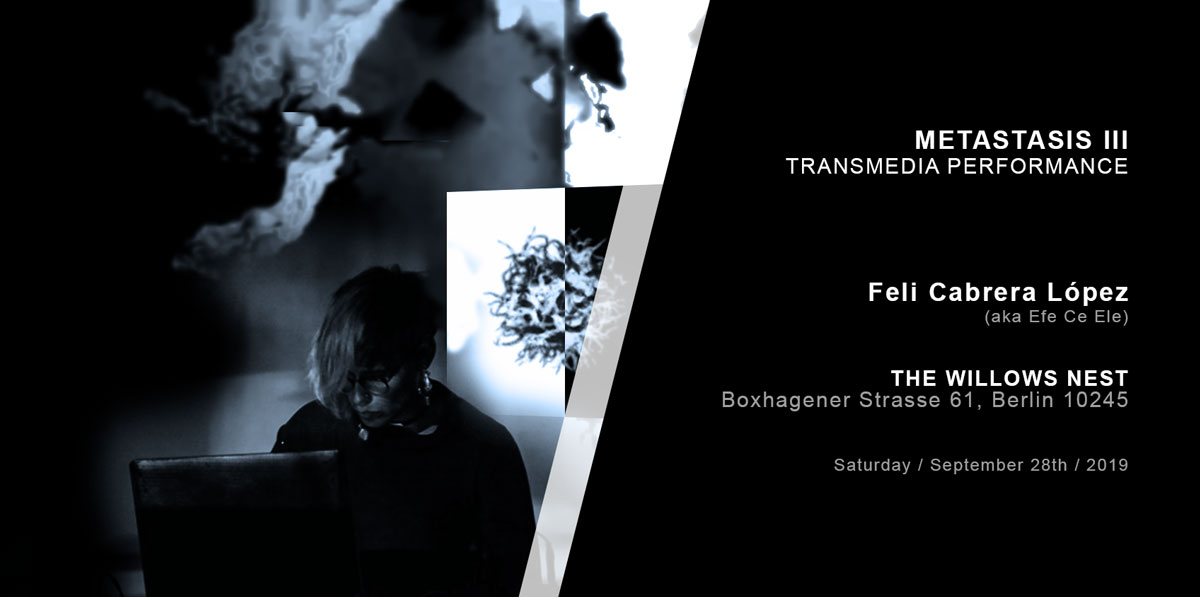 Performance: Metastasis III (Work in Progress)
This work-in-progress showing features  advances of Metastasis, the evolving bio-interface installation series the artist is developing at The Willows Nest Residency Program.  It consist of a transmedia performance between biology, electronics, and the human body, in a context where image, sound and sculpture meet as one single work/experience; where all the resources are linked as extensions of the body of the performer.
Feli Cabrera López (aka Efe Ce Ele)  is a multifaceted Artist, Designer, Writer and Trangender Activist; focused on human body, abstraction, perception, physics and semiotics as our Autumn Artist in Residence.
She is a strange mix between "opposite" concepts, a constant confrontation against binarism culture (body/mind, order/chaos, good/wrong, male/female, right/left…). Her art production methods develop her view of life, her resultant artworks are always a conflictive contrast between neo-expressionism and minimal-design, between abstraction and figuration, between health and illness, between clean and abject and between other "betweens", always transiting between the limited concepts.
As an artist she works in formats like music, sound-art, transmedia-performance and transmedia-installation. She has exhibited on different places like International Image Festival, Contemporary Venice, Balance Unbalance, The Wrong Biennale and Escuchar Festival, among others.