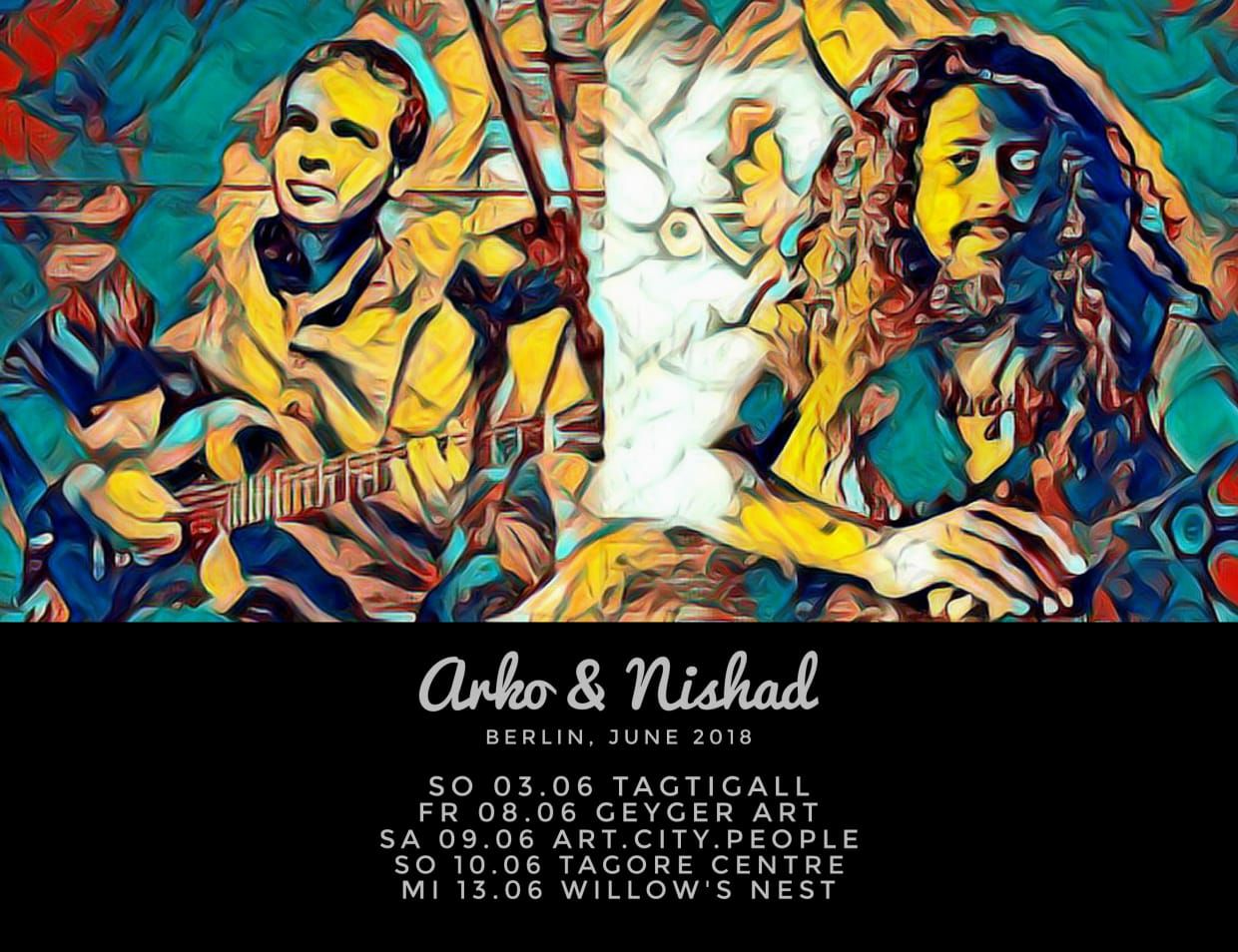 Arko & Nishad is a new collaboration by two friends who have, over the years, appreciated each other's music but never had the opportunity to create something together. This is that moment.
A fusion of Arko Mukhaerjee's expressive and powerful voice, ukulele and dotara (two-stringed Bengali folk instrument) and Nishad Pandey's harmonic and rhythmic inflections on guitar, the duo draw on a vast repertoire of world folk, blues, country as well as Arko's original songs, infusing it with their own distinct style.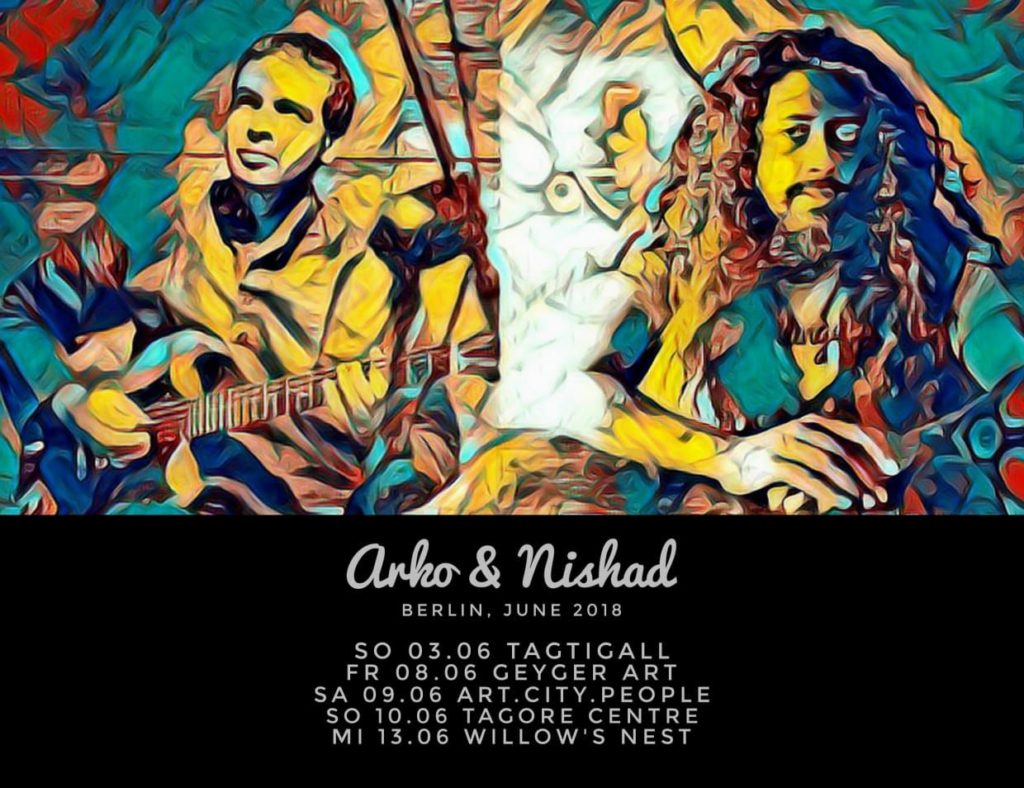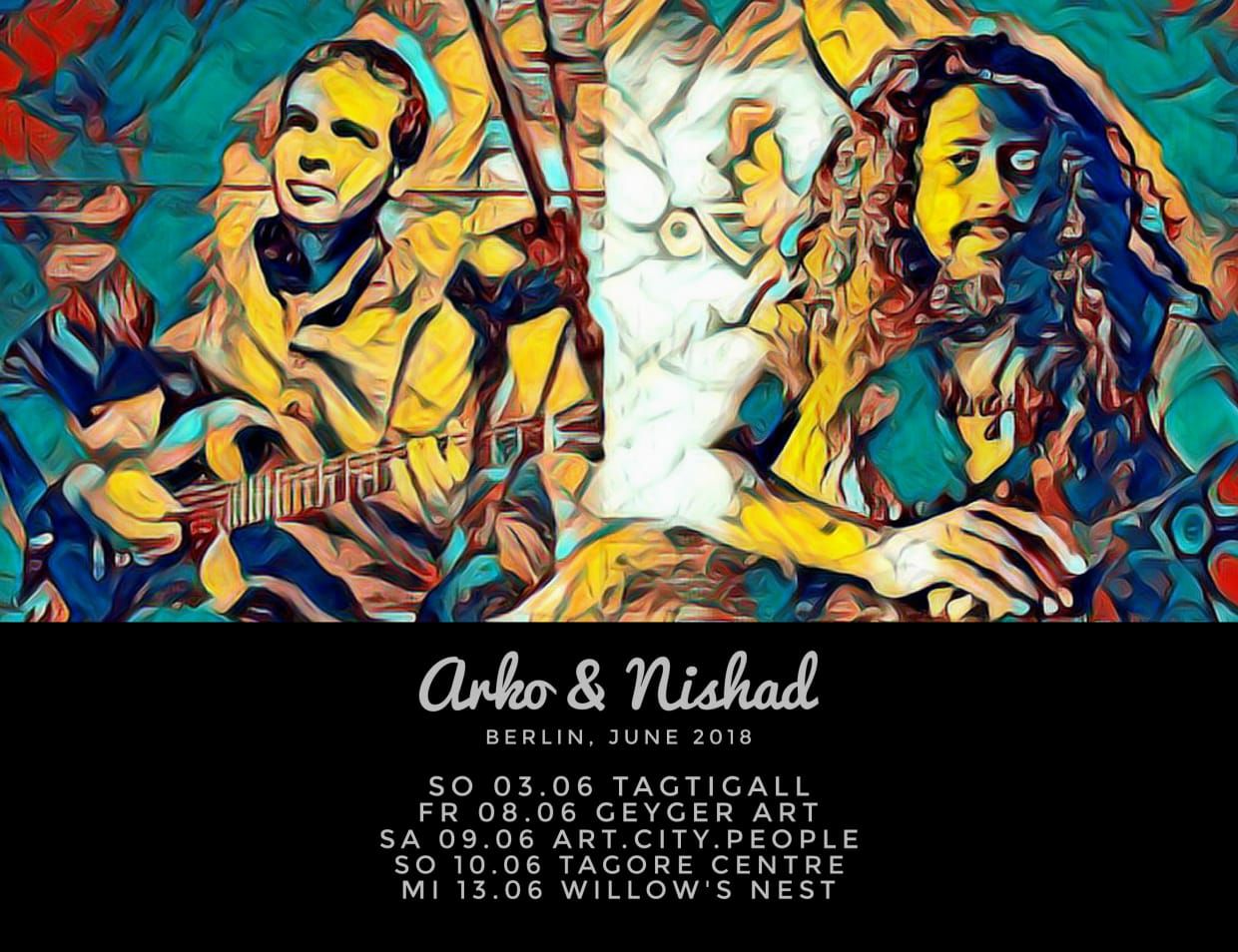 "In the last few years of constantly travelling between India and Europe with a dream of making a family 
and playing music, I went through a roller coaster ride of changes. It is also important to say that the 
changes happened too often and by the time I was beginning to settle down into a certain cultural 
thinking, I was on the move again. However that is not the story to discuss in this duo.
Smell, streets, rain, color, faces, beliefs, drama and several other elements which are unique to each 
and every place I have been to, irrespective of urban or non-urban existence, made me realize, that it is 
incredibly foolish of me to have believed all the years before, that the world is the same place 
everywhere. The world is indeed very different and hence we find it beautiful. 
It is our hearts, longing to sense that common necessary element of beauty that makes us dream about a uniform world. The true understanding and appreciation of the local essence of a place, cultural, musical or artistic, makes us 
closer to the earth of the particular place and only then can we sense the similarities in artistic and 
cultural structures of societies with unique characters of their own. 
My idea of this duo with Nishad was to build a bridge between root music forms of Bengal with many other traditional 
musical forms of the world, through an understanding of the migrational history of mankind. I didn't 
know as an early teenager why I felt so strongly for a Mississippi Delta blues song from the 1920's. I 
remember my father, singing me songs written in tribal Bengali dialects, about the stories of servitude of 
coal mine workers in the once known Manbhum district in Bengal when I was barely 3 or 4 years old. 
The Dhamsha (a tribal santhali two headed large drum) 6/8 rhythm, that my father replicated with his 
hands using a strange clapping technique, used to fascinate me as a child. 
Today I realize, I can hear an impression of those same long moaning phrases from that Manbhumi song from my childhood, in that song of Blind Willie Johnson. I love the uniqueness of both of these forms. They are both very different. 
And yet they bear an uncanny similarity in their expressions. I suppose that is what the idea of collective unconscious is about."
Arko Mukhaerjee